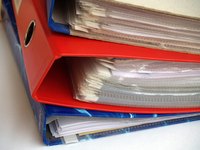 There are many valid reasons why a firm decides to change auditors. These include the cost of the audit, the timing of the audit procedures, conflicts among firm personnel and audit staff, or disagreements about the application of accounting principles. Changing auditors may not be an easy process. The firm should allow sufficient time to find a new auditor and allow the new auditor to fully perform audit procedures.
Select A Successor Auditor
Document your reasons for leaving. Although this is not legally required, the successor auditor will likely ask why you're leaving the "predecessor auditor," in accordance with professional standards. You should be able to provide a valid reason.
Identify public accounting firms in your area that provide audit services. You can use your local phone book, perform an Internet search or access a link on the American Institute of Certified Public Accounts website that allows you to "Find a CPA."
Contact the audit firms you have identified. Make sure these firms are local—the auditors will likely need to travel repeatedly to your place of business.
Ask the audit firms for references or current clients in your industry. Your audit firm should have expertise in the industry. A lack of industry familiarity could result in delays and add cost to the audit.
Ask for estimates from the audit firms with expertise in your industry. The estimate should include both price and anticipated timing. You want an audit that's conducted within a reasonable period of time and that meets your deadline requirements. The audit firms may want additional information, including your prior year financial statements, copies of some accounting records, and interviews with you and your staff.
Interview the audit firms that have submitted attractive estimates. Make sure you meet with the partner or person who will manage your audit.
Choose your successor auditor. Base your selection on the price and time estimates, and your comfort level with the company.
Sign an engagement letter. This is your contract with the successor auditor. You should ensure that key terms and deadlines are spelled out in the engagement letter.
Part Ways with the Predecessor Auditor
Inform your predecessor auditor of the decision to change audit firms. The successor auditor will contact the predecessor auditor.
Negotiate the change of auditors with your predecessor auditor. The successor auditor will likely ask to review the predecessor auditor's working papers to facilitate the audit. The working papers of the predecessor auditor are his property. He does not have to allow the successor to review them, but will usually do so out of professional courtesy.
Pay the predecessor auditor any fee you have negotiated. The predecessor auditor may ask to be reimbursed for time and costs, such as copies, during the successor auditor's review of the working papers. These fees should be reasonable and paid in a timely manner.