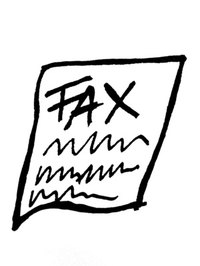 The Xerox line of WorkCentre Pro machines are much more than office copiers. When configured, these devices can be a copier, scanner, LAN fax and network printer. One function that is sometimes useful is the WorkCentre's ability to automatically print out cover sheets for all received faxes. The cover sheet will detail information about the received fax, including the sender's fax number, number of received pages and time the fax was received; however, some users prefer not to have the cover sheet printed in order to reduce paper usage and copier volume use.
Press the "Fax" button. This will be on the main panel of the Xerox WorkCentre. Pressing this button will bring you into the fax function of the copier.
Press the "Fax Options" tab. There will be three tabs on the touch screen display. The "Fax Options" will usually be the middle tab.
Turn off "Print Cover Page" option. The only options for the cover page are "On" and "Off." Selecting "Off" will tell the machine not to print any cover pages for received faxes.
Press "Okay" to save settings. This will store your preferences into the settings of the fax machine. This process can be undone by selecting "On" for cover pages.