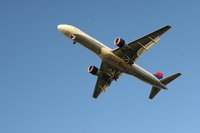 Connecting international flights can make even the most experienced traveler nervous, as the possibility of missing a connection places great stress on your trip. The requirements to connect flights vary according to whether you are connecting from domestic to international or vice versa. Procedures may also vary if your connection is in another country (e.g. New York to London, then London to Germany).
Domestic to International
Exit the terminal. Once you land in the city in which you will connect to your international flight, exit the terminal. Take all of your belongings, as you will no longer be able to access the domestic terminal without being screened by security again. Do not worry about your luggage, as it has been checked through to your international destination by your airline.
Proceed to the international terminal. If it's a large airport, using airport shuttles to move between terminals will save 30 or even 40 minutes.
Proceed through security and abide by the same rules that regulate domestic travel. Have your passport ready and liquids of the appropriate size in plastic bags to ensure you get through the line faster.
Proceed to your gate. Approach your gate waiting area as normal and follow normal boarding procedures. Show your passport to the gate agent before boarding the plane.
International to Domestic
Complete U.S. Customs and Border Protection entry forms. Before exiting the airplane, complete Form 1-94 or I-94W and the CBP Declaration Form. Airline personnel will provide these forms and you must answer questions detailing your residence and other identifying information as well as list any purchases you have made abroad.
Claim your luggage. Exit the terminal and proceed to the connecting baggage check. Wait for your luggage at the carousel to claim your luggage.
Clear Customs and Border Protection. Show your declaration documents to the CBP officer, who may inspect your baggage. You may be required to pay duty if you have exceeded your exemption amount. Your exemption amount may be $200, $800 or $1,600 depending on the country you have visited.
Re-check your baggage. If you are connecting to another domestic flight, proceed to your airline's ticketing counter to re-check your baggage. You may be required to pay a fee for each of your checked bags, depending on your airline's policies.
Proceed to gate. Go through security as normal to get to your gate. Have your passport or government issued identification and boarding pass available for inspection. Ensure that all liquids are in 100ml or smaller containers and enclosed in plastic bags. Wait for your boarding group to be called at the gate before approaching the plane. Provide the gate agent with your boarding pass to board your flight.