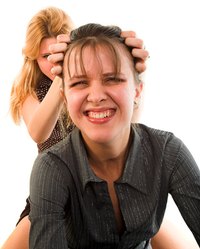 Workplace bullying can have significant effects on an organization. The company's employee morale and work environment are often diminished by such harassment. This can reduce productivity and innovation. Bullying behavior may be obvious with actions such as throwing objects, yelling, insulting others and negative physical contact. Bullying can be subtle, too. A bully may engage in character assassination, petty humiliation or attempt to disparage or interfere with workers in other ways. To provide the organization and its employees with an enjoyable and productive environment, it is important to take actions aimed at eradicating and preventing bullying behavior.
Develop a company policy related to bullying. In it, define what bullying is, and give examples of unacceptable behavior. Show support for employees being able to work in an anti-bullying environment; provide instructions for reporting actions of bullies.
Conduct surveys. Use an outside company or third party to uncover workplace bullies through surveys. Notify employees that any information they provide will be kept confidential. This can encourage them to furnish information without fear of retaliation or recourse.
Establish company procedures for investigating reports of bullying and exercising disciplinary action.
Conduct employee training programs. This ensures workers understand the company's "zero-tolerance policy" and are aware of how to conduct themselves and their rights to report bullying behavior. Reinforce that employee information will be kept confidential and no retaliation will be made against any employee who comes forward to report a bully.