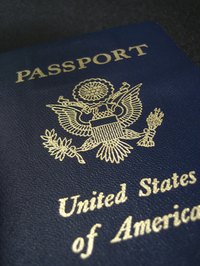 The easiest way to renew your American passport while in Canada is by mail. You will need to complete the required paperwork and assemble the supporting documents: These include your current American passport, two new passport photos and payment. There are specific qualifications regarding age and other details you must meet in order to be eligible to renew by mail. You need to begin the process in time to receive the new passport by your travel dates; you should allow approximately six weeks for processing.
Things You'll Need
Form DS-82
Current U.S. Passport
Renew Your U.S. Passport by Mail from Canada
Check the U.S. State Department guidelines to determine if you qualify to renew by mail. For instance, you must be at least 18 years of age and your recent passport must have been issued within the last 15 years; when you were at least 16 years old. Your passport must have no special limitations and be in undamaged condition to be renewed via mail. If your name has changed, you must provide the original copy of your marriage certificate or name change certificate with your renewal request.
Complete passport renewal form DS-82 and use black ink to sign your name as it appears on your current passport.
Take two identical color passport photos measuring two inches by two inches with your image between one and one 3/8 inches against a light background.
Include payment with your renewal application. It must be a bank or postal money order in U.S. dollars, made payable to the U.S. Consulate General. Personal checks are not accepted.
Assemble your package. Include form DS-82, two color passport photos, your current passport and payment. Send original documents; photocopies will not be accepted. All original documents will be returned with your renewed passport. Mail the package using a trackable delivery method to the National Passport Processing Center in Philadelphia, PA.