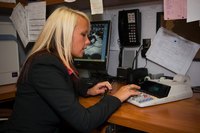 All companies have bills resulting from their operations, such as utilities or the acquisition of materials for use in business. Organizing payables allows companies to have a system for paying each bill. Large organizations will often have several bills that need organization. Setting up a system by the due date of payables is a common solution.
Create a file folder system where each folder is numbered one through 31. This file folder system represents each day of the month. Tabs can represent the numbers on the folder for easy reference.
Stamp each bill with a received and pay-by date. This method allows companies to have a quick reference for determining when the bill came into the company and when to pay the bill.
File the stamped bill in the corresponding folder. If the pay-by date is the 27th, then the accountant will place the bill in the correct folder for later reference.
Create check batches by payment date. When bills come due for payment, companies can create a payment batch by this date when cutting checks.