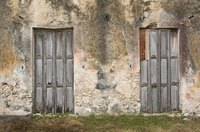 Historically, haciendas were made up of more than just one home. They included the agricultural land being worked, the small village where workers lived, outbuildings, and the main house of the hacienda. Haciendas were typically located in rural settings. While designing and building such a complex can be quite expensive, creating an imitation of the main house is easier and more affordable, especially if you plan on building in an open, rural setting.
Things You'll Need
Large rural lot
Building permits
Check building codes in the area where you want to build your hacienda at your local government offices. Contact your municipal government office to get building permits and to make sure your plans meet building codes for the area. Pay permit and building fees at these offices.
Research different hacienda-styled houses. Look at historical references, books and magazines of restored haciendas. Decide on whether you want the hacienda as a one- building home, or as several smaller structures joined by a courtyard.
Measure your land and create preliminary drawings of a hacienda-style house which will fit onto the property. Use online architectural drawing programs like Free Mechanical Engineering CAD, B4Build or 3D2F to help create the look you want. Integrate wraparound verandas, natural light sources and high ceilings and Mexican vaulted ceilings (bovedas) into your drawing. Ask a Mexican architect or home designer to help you attain the look and feel of an old hacienda.
Locate and use natural construction materials like stone, brick, old wood timbers and clay roof and floor tiles. Integrate these natural building elements into your hacienda. Search antique stores and flea markets for antique Mexican doors, stone fountains and hand painted tiles (talavera).
Hire construction workers with experience in cement, rock, and brick construction. Find workers experienced in laying Mexican roof and floor tile. Use authentic handmade tile. The uneven look adds authenticity to the rustic hacienda style.
Hire wood craftsmen that can build Mexican wood window shutters and other traditional hacienda accents like imitation antique doors, balustrades and old wood terrace rails.
Add wrought iron doors and gates to your hacienda by hiring an expert craftsman who works with iron. Skilled artisans can turn functional items into beautiful pieces of art.
Expect the overall design and construction of a hacienda to take longer than that of a regular house because of the inclusion of natural materials and hand-crafted elements.