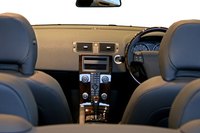 The safest place for babies riding in the car is at the center of the back seat. Car seats situated in this position are protected from exploding front-seat air bags, as well as from potentially dangerous side impacts. When using multiple car seats, the back seat is still the safest place for all of them.
Two Car Seats
Check each of the seat belts on the left and right sides of the car's back seat to make sure they are lap-shoulder-style seat belts. Most car seats require this kind of seat belt for proper installation.
Place one car seat on the left side and one on the right side of the back seat. Positioning the seats on either side of the car keeps children at a safe distance from each other.
Follow the manufacturer's instructions closely when installing the seats. Typical baby seats are fastened to the seat by pulling the car's lap-shoulder seat belt through an insert in the seat, so that it does not move or tip over during transit. Booster seats, also called sit-up seats, that are used for older children can be fastened to the seat using either a lap-shoulder belt or a lap belt, depending on the manufacturer's guidelines. Although some cars come equipped with hardware that can lock in a child restraint seat, you should rely solely on the instruction manual that accompanies the seat to ensure safety.
Pull and tug on the car seats to make sure they are properly installed before the children's first ride in them. The car seats should be firm against the seat cushions and not easily moved around.
Three or More Car Seats
Check to see if the center of the back seat has a lap-shoulder belt. If there is a lap belt, it may not be possible to install a baby seat in this space since it often requires lap-shoulder belt installation. Some car seats and booster seats have a wider shell or encasing, which makes it difficult to fit them in the center of the back seat with other car seats on either side. Take this into consideration before installing multiple seats.
Position all three car seats in the back seat -- as long as there are three lap-shoulder belts. If one of the car seats is a forward-facing booster seat, position it on either side of the back seat so that this child can get upper-body coverage from the lap-shoulder seat belt.
Refer to the manufacturer's guide for securing each car seat properly. In general, the seat will need to be secured by pulling a seat belt through an opening at either side of the seat. Start by installing the center seat, and then fasten the other two seats on either side. Even if they are positioned side-by-side, no two car seats should share a seat belt.