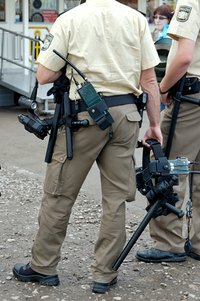 A security guard service is a business that is inexpensive to start and manage. While the low overhead and staffing requirements related to starting a security guard service offer obvious benefits, there are specified skill requirements to meet. Tactical and surveillance training are paramount to every guard service operation. This means, there needs to be someone on the staff with either military, law enforcement, or security guard training to assist in the structuring and management of the operation. Depending on the number of guards on staff and clients a guard service has, the starting costs may range between $5,000 and $50,000.
Obtain necessary licenses and training. Typically licensing, background check, classroom training on emergency procedures, property rights, and methods for detention of suspects s required in most states. There will also be firearm training and licensing and further training requirements if armed guard service is provided. You will need to research the state-specific requirements for security guards licensing, to find out the specified requirements for your state.
Register your guard service business with the state and obtain a tax identification number. All states require new businesses to register with the state. In most states, the secretary of state is designated to process registration applications for new businesses, containing the details about the business' owners, product or service, location, and company structure. The forms and fees related to this registration are found by visiting the department of state website for your state. You should also contact the IRS at this time and register for an employer identification number (EIN), which you can get instantly on the IRS website.
Evaluate the competition. You must know what your competition has to offer, if you are to be competitive in the area market. Locate your competition in the phone book and on the internet. Contact your competition to request marketing materials, and inquire about service costs. Look over the competitors' websites. Once you have determined what your competition has to offer, you will then be able to find your niche, and determine the most competitive cost structure for your services.
Secure your clientele. Devise a marketing plan to attract clients. Establish a website, contact potential clients by phone and email to solicit your service. You will also need to invest in high-quality marketing materials, like brochures, stationary, business cards, and flyers. These materials will be disseminated to potential clients, that are in need of guard services. Contact potential clients periodically if they have not responded to your offer. Just because they have not responded does not mean that they are not interested, and you should always follow-up with clients.
Expand and diversify. Once you become familiar with the security guard business, you can expand and diversify your service offerings to provide additional services to the community you serve. You can expand your services to offer security consultation, and security workshops for local business owners. Evaluate the needs of your community and address the issues not addressed by your competitors. You also want to periodically evaluate the effectiveness of the overall operation to determine if changes need to be made.