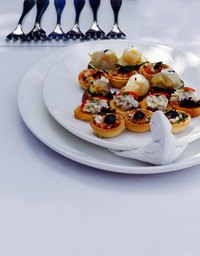 Like any start-up venture, a catering business requires a two-pronged approach. You consider the more mundane, business-related aspects, such as a business plan, licensing and permits, financing and other filing and registration requirements specific to Vancouver and British Columbia. Then there's the daunting task of acquiring kitchen equipment, hiring employees, designing menus, developing a clientele and deciding between an out-of-home company or a storefront. You'll also have to be an expert cook or chef, a good manager, expert planner, and patient and determined
Business Requirements
Choose a "unique" business name and business structure. You have three basic options in BC—sole proprietorship, partnership or corporation.
Register your business with BC Registry Services. You can visit a Small Business BC office, mail a registration form to the BC Corporate Registry, or register online.
Acquire food service permits and business licenses. Caterers and mobile food services need both a business license and a food service permit.
Develop a business plan and secure financing, if you're not bankrolling yourself. Take care of any business-related issues like business cards, stationery, web sites and vehicles. Make sure you have, or someone you hire has, a valid driver's license.
Apply for the Government Services Tax (GST).
Catering Needs
Make a list of the physical items you'll need in your business. If you have restaurant or catering experience, you're familiar with the plethora of items required. But visit a catering business to refresh yourself, and take notes. Pots and pans, utensils, cutlery and hundreds of pantry items will be needed.
Rent or purchase your equipment. You may want to rent many items initially, especially things you'll need for in-home service like plates, tables, tablecloths and silverware. As your business grows, you can start purchasing these items.
Interview and hire employees. Working alone as a caterer is nearly impossible; you'll need at least one other person, depending on the size and scope of your business. Train your employees.
Design a menu. Decide what food you want to provide and create packages or offerings. Find a niche, and cook what you know.
Visit businesses that provide catering equipment and services. Bakers, candy makers, decorators, florists, event planners—even portable toilet suppliers—all may be useful to you in the future. Get to know them, their services and their prices.
Start small and decide whether you want to be a full- or part-time caterer. Consider the amount of time you'll need to invest, and if your family is an issue.
Advertise. Take out local ads in newspapers, print flyers and visit potential clients. Consider cable TV ads. Create a web site so potential customers can find you.
Remodel your home kitchen. You may find your home furnishings inadequate for a business, however fledgling it is. Take into account business growth plans.