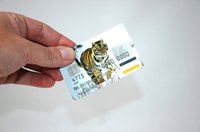 Credit cards in Korea only became available in the early 2000s and their popularity and usage among Koreans quickly soared, according to a 2009 series on Korean credit in The Korea Times daily newspaper. Large banks in Korea offer credit cards, but it can be difficult for foreigners to successfully apply for one. The major credit cards, such as Visa, MasterCard and American Express are accepted by Korean merchants and it may be easier to use a foreign card than to get a Korean credit card.
Things You'll Need
Passport
Korean work, study, resident or spousal visa
Pay stubs or other proof of income
Employment contract
Bring your passport with your visa to the local Korean immigration office once you arrive in the country, and apply for your ARC (alien registration card). This card is your legal identification and proof of your residence in the country and is required for all banking procedures.
Contact the NTS (National Tax Service) to get proof of your tax contributions if you're working in Korea. Bring these documents, at least three months of pay slips and a copy of your employment contract to your bank to apply for a credit card.
Go to the branch office of a large national bank, such as Korea Exchange Bank (KEB), Woori Bank or Shinhan Bank and apply to open an account. Korean banks usually only allow their banking customers to have a credit card.
Ask a Korean friend or your employer to act as your guarantor if you were turned down for credit card. You may also need to have your employment contract extended, because many banks won't issue credit cards to people who will be in the country for less than two years. If your employer has an established line of credit with a certain bank, then it may be easier for you to open your credit card with the same financial institution.
Apply for credit cards in department stores or with large national companies if your bank repeatedly turns you down. Large retailers and companies such as Lotte Shopping, Samsung, LG Corp and Hyundai often issue credit cards to foreign nationals.