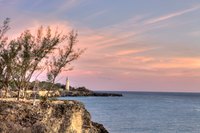 Visitors arriving in Jamaica will find that all roads seemingly lead to Negril, one of the island's key tourism hotspots on the north coast. With its miles of beaches, including the celebrated Seven Mile Beach, cliff top hotels at West End and lively nightlife in the town's center, it is hard to conceive that there wasn't a road into the town until 1959. Unlike Montego Bay and Ocho Rios, however, Negril does not have a terminal for cruise ship arrivals.
Arrival Points
The majority of international flights from Miami, New York City and beyond fly into Sangster International Airport in Montego Bay. Negril lies 50 miles to the southwest on Jamaica's eastern tip, roughly two hours by road, but frequently more in traffic. Frommer's advises against flying into Kingston, the Jamaican capital, which is 150 miles and four hours away across the other side of the island. The town of Negril itself is spread out along the coast, making it a sizable hike from Bloody Bay at the town's entrance to West End at its exit. A safe and reliable minibus service runs up and down Norman Manley Boulevard, the town's main artery.
From the Airport
Most of Negril's brand name all-inclusive chain hotels, such as Sandals and Couples, organize free shuttles from the Montego Bay airport to the resort. Passengers should request a spot on a shuttle when making the airline reservation. Frommer's also recommends the TourWise minivan service, which is much cheaper than taking a taxi. Passengers who want to take a taxi should go to the authorized airport taxi desk just outside customs. JUTA -- with the red license plates -- and JCAL are the official taxi operators from the airport, with transport ranging from 56-seater coaches to 15-seater vans. Never take an unlicensed taxi, which will often have no insurance and little guarantee of personal safety.
Car Rental
Arriving passengers will find numerous car rental kiosks in the arrivals hall at the Montego Bay airport, or around the cruise ship terminals and airports if arriving elsewhere. Typically, renters will need to be at least 23 years old, but surcharges are applicable up to the age of 25. Frommer's recommends insisting on unlimited mileage, since Jamaica rental rates are already among the highest in the Caribbean. Renters will be asked to post a hefty security deposit and should bear this in mind if using a credit or debit card, since many tourists unwittingly find their card blocked until the deposit is returned. Jamaica's traffic drives on the left, and gas stations generally don't accept credit cards.
Quick Transfers
For a reasonable price, visitors can take a charter flight on TimAir to the Negril Aerodrome from Montego Bay, Kingston or Ocho Rios. The aerodrome is just over 5 miles north of Negril Village on Bloody Bay. There are also domestic flights from Kingston, Montego Bay and Runaway Bay; Kingston flights leave from Tinson Pen, not Norman Manley. Air Link, Jamaica's domestic airline, also operates 20 flights a day between Montego Bay and Negril.