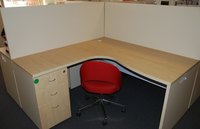 Partitions are commonly used to create divisions between working areas in an office to help reduce distractions. This can increase the productivity and efficiency of office workers and as such is a frequently used way to organize workspace. The two main partition types are semi-permanent (which are large, heavy and cumbersome to move) and free-standing (which are not attached to floors or ceilings and can be moved easily). You can buy them from an office-supply store or make them yourself.
Things You'll Need
Sandpaper
Saw
Screwdriver
Screws
2 sheets of plywood
5 strips of wood
Tape measure
Measure the space where you want the partition. Cut five strips of wood to the height you want the partition. Use four of these to create a square frame and attach the fifth horizontally across the frame to add strength to the partition. Fasten with screws.
Sandwich this frame between your two sheets of plywood, making sure the edges line up. Fasten one side at a time using screws.
Finish the partition by sanding down any rough edges and, if desired, covering in felt or other material.
Make as many partitions in this fashion as you need.
When you have all your partitions constructed fix them in place on the floor, to the wall or another partition and to the ceiling (if partitions are tall enough). Space screws roughly a foot apart to ensure they are secured safely.