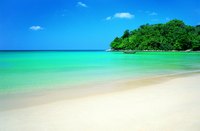 For all Bangkok's neon charms, most travelers to Thailand also head south at some point to unwind on the country's tropical beaches strung along the Andaman Coast. The island of Phuket ranks among the most popular destinations, and is well connected with the capital. Domestic flights provide the quickest connection, but given the beauty of the surrounding country, an overland trip culminating in a crossing of the Sarasin Bridge to Phuket island lingers longer in the memory.
Quick Flights
The flight south from Bangkok to Phuket takes around one hour, 20 minutes. That's slightly longer than it can take to travel the 18 miles by car from downtown Bangkok to Suvarnabhumi Airport through the city's notoriously gridlocked traffic.
Luckily, a slick, high-speed airport express train cuts the transfer to 15 minutes. Passengers can either fly from Suvarnabhumi, Bangkok's modern, main international airport, or from the older Don Muang Airport, downgraded to domestic flights only, which is 15 miles north of the city and acts as the hub for budget airlines. Either way, several airlines, including Thai Airways, Bangkok Airways, Nok Air, Air Asia and One-Two-Go, fly daily to Phuket International Airport, Thailand's second busiest. From Phuket's airport, it is a 45-minute drive to Patong Beach, but many of the resorts provide a free shuttle.
Luxury Bus
Taking a ride on one of Thailand's long-distance buses, in which the air-conditioning temperature is turned right down and the music right up, is almost a backpacker rite of passage. The 13-hour ride to Phuket is no exception, and the journey is cheap and comfortable. The lowest rates are for the standard 32-seater buses, which offer basic comfort, but it's worth paying extra for the luxury 24-seater VIP buses, which feature hostesses serving snacks, on-board movies and a stop for a complimentary meal around the halfway mark.
More than 20 buses leave daily from Bangkok's Southern Bus Terminal to the upgraded Phuket Bus Terminal on Thepkasattri Road, which opened in 2012. Buses leave either in early morning or early evening for an overnight service. Fodor's recommends buying tickets through the Tourism Authority of Thailand office rather than through more expensive travel agents, and advises using official government buses rather than the less reputable private companies.
Independent Travel
Bangkok to Phuket is a 535-mile, 10-hour drive on good, clear highways overall. Some parts, such as the coastal stretch from Ranong to Phang Nga, with the mountains on one side and the Andaman Sea on the other, are worthy of Top Gear, but traffic and tempers around the cities can be testy. Frommer's warns, too, that driving in Phuket itself can be dangerous, because roads in the center of the island are steep and winding.
Many car rental agencies, such as Budget, will allow drivers to make a one-way trip, delivering the car in Phuket, but drivers must be at least 21 and carry an International Driver's License and full insurance. For a leisurely trip, companies such as Bike Tours Direct organize guided bicycle tours, taking in small villages and Buddhist retreats at a comfortable pace, and staying in hotels along the way for the tour's nine-day duration.
Train Combo
Although you can't travel all the way to Phuket by train, travelers can catch the overnight sleeper from Bangkok Hua Lamphong station to the southern Thailand city of Surat Thani, and then transfer to an air-conditioned bus or minivan for the four- to six-hour drive south and across the bridge to Phuket. To make matters easier, combined train/bus tickets are on sale at Bangkok's train station. Surat Thani is Southern Thailand's main transport hub, but is hardly a tourist destination worth a stopover. Roughly 14 buses depart daily for Phuket, along with hourly minivans leaving in early morning and early evening, but not overnight. Government buses leave from the newer terminal near the station, whereas private buses congregate around the Talat Kaset Terminal in the city center.