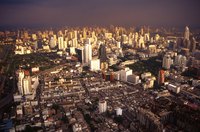 Thailand is located in the heart of Southeast Asia and is home to the bustling city of Bangkok and the amazing beaches of Phuket. Before calling Thailand, be sure to check the local time of where you are calling. Thailand is 11 hours ahead of Eastern Standard time and 14 hours ahead of Pacific Standard time. Before dialing, make sure you have the code for the city you are calling. Three major city codes are: Bangkok 2, Chiang Mai 53 and Phuket 76.
Things You'll Need
Dial the international access code: 011.
Dial Thailand's country code: 66.
Dial the rest of the phone number.