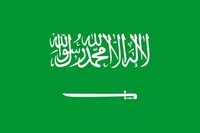 Traveling in the Kingdom of Saudi Arabia as a woman must focus on showing a respect for the local customs. Strict Muslims hold that the rules for women are not there to "oppress" them, but to protect them from the eyes, fantasies and advances of men. This is supported by the fact that most of these rules apply to women under 40 years of age. Enforced dress code rules all center around the prevention of a young woman being the object of male lust.
Wear dresses that go down to the ankles. Pants are often not a good idea. They are, however, far better than shorts. Shorts are out of the question for men and women. Long sleeves are also a must for both sexes. Form fitting clothing of any kind is forbidden and would cause a scandal.
Wear head coverings. Headscarves are always advisable no matter where a woman is traveling in the kingdom. In the capital city of Riyadh, women should always wear a headscarf and a black cloak over their clothing. A good rule of thumb for the dress code throughout the kingdom is that the more it covers and the darker the color, the better.
Shoes must be removed before entering a mosque. Some stricter Saudi families will also want you to remove your shoes before entering their living rooms.
Travel with a father or brother—or someone who could at least fit that description—if you are under the age of 40. Travelling to Saudi alone is never a good idea.
Destroy any magazines or alcoholic beverages before arriving in Saudi Arabia. If you have magazines in your luggage that contain racy photographs of scantily clad women or men and women socializing, get rid of them. Pages will be torn out at customs. Any alcoholic beverages will be confiscated. In major business or industrial areas, there are expatriate areas that have many Americans or Englishmen, and in these places, the rules are significantly relaxed.
Socialize with females only. There are male and female parts of restaurants and malls. Never ask a male host about his wife or children, that is considered personal information that should not be shared. Ask instead about the generic "family." Never accept gifts from a male, since this is tantamount to a sexual proposition, especially in the capital.