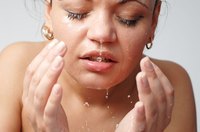 Though it may seem contradictory to treat blackheads with oil, this is the case with the oil cleansing method. Blackheads are created by sebaceous glands secreting too much oil, which then mixes with dead skin cells, dirt and bacteria. The oil cleansing method utilizes Castor oil and sunflower seed oil to soften the pores and release the trapped dirt beneath.
Things You'll Need
Castor oil
Sunflower seed oil
Mix sunflower seed oil with castor oil to create the optimal blend for your skin type; 10% castor oil is best of dry skin, 20% castor oil is best for combination skin, and 30% castor oil is ideal for oily skin.
Smooth the mixture gently over your skin and massage for 1-2 minutes.
Leave the oil on your skin for 10 minutes.
Soak a clean cloth in hot water, wring it out and lay it over your face. The cloth should be hot enough to steam, but not so hot it scalds.
Leave the hot cloth on your face for an additional 5 minutes.
Wipe your skin with the cloth to remove any residue and dirt that has been released from your pores.
Repeat steps 4-6 two to three more times. Make sure to wipe your skin after each steaming.
Rinse your face with warm water to remove any remaining oil and then splash your face with cold water to close your pores.
Repeat the process every other day until blackheads are eliminated.