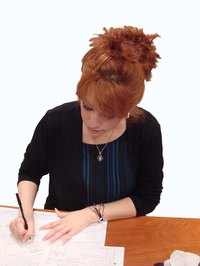 Individuals who work from their homes can deduct portions of their rent from their federal income taxes if they meet certain conditions. Although changes to the tax laws in 1990 made it possible for more people to qualify for this deduction, TurboTax, a leading online tax preparation firm, recommends that taxpayers "Take the deduction carefully." Study the IRS rules governing business expenses and determine if you qualify for a home-office rent deduction.
Visit the IRS website and download publication 587 (Business Use of Your Home). This document lists the conditions that you must meet before you can deduct rent from your tax return.
Read the document carefully and review the qualifying conditions. The document explains each condition in detail. If you meet one of the conditions, proceed to the next step.
Measure the total square footage of your residence.
Measure the square footage of the area of your residence where you conduct business.
Divide the area used for business by the total square footage and write down the result. The IRS refers to this number as the "Business Percentage" value.
Multiply your monthly rent payment by 12 and write down the result. This is your yearly rental payment.
Divide your yearly rental payment by the Business Percentage value. The result will be the amount that you can deduct on your federal income tax.
Download Form 8829 (Expenses for Business Use of Your Home) from the IRS website. The form will ask you to repeat the same steps that you did to calculate your deduction amount.
Complete the form and attach it to your federal tax return when you file.