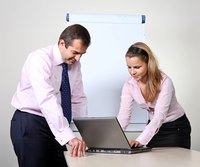 Key Performance Indicators (KPIs) or Key Success Indicators (KSIs) allow an organization to define and monitor its progress toward organizational goals. Once a company has finalized its mission, analyzed all the stakeholders and agreed upon its goals, it requires a methodology to measure progress toward achieving these goals. KPIs are these measurements.
KPIs must be agreed-upon, quantifiable measurements that reflect the performance of an organization. KPIs vary from organization to organization. For example, a school's KPI might include graduation rate of its students while KPIs of a customer service center will be number of customer calls returned in their first minute. If you are responsible for managing KPIs in your organization, you will need to follow a systematic approach to make sure that KPIs are defined and monitored properly and are helping improve the efficiency of your organization.
Finalize the type of data that needs to be collected. Make a list of all stakeholders and hold meetings with them to understand the goals of your organization. A stakeholder is a person, group of organization who affects or can be affected by the process of collecting, maintaining and monitoring KPIs for the organization. All stakeholders should agree on KPI criteria and that the selected KPI parameters are quantifiable.
Incorporate the data collection process into the work process of your organization. For example, if a health club owner is interested in collecting data for seeing how many times his clients visit the health club every month, instead of asking his assistants to call and ask each client, it is beneficial to introduce data collection through secured card readers that every club member needs to swipe to enter the club.
Use relational database systems instead of simple spreadsheets. Relational database systems are more robust for maintaining and extracting data. An initial investment is designing simple data entry forms and storing data in commonly used databases such as Microsoft Access might significantly improve the productivity of your company's data management process.
Verify the accuracy of the data, but do not spend too much time of fixing it if data is not 100 percent correct. Data might not be 100 percent accurate due to the complexity of the data collection process, but it still can provide useful information about general performance trends. Spend time on cause analysis and performance improvement of your business instead of perfecting your business data
Rely on data samples instead of trying to collect the all available data. For example, if your company manages several retail stores spread throughout the country, choose a few stores as a sample and generalize your survey results based on the collected information from the selected stores. This is especially important if the amount of data to be collected is substantial.
Communicate the results of KPIs to all the stakeholders on regular basis.