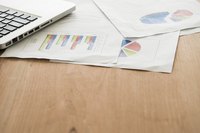 Debt settlements occur when a creditor agrees to accept less than the full amount of a debt in payment for an account balance. These occur when the creditor believes that the odds of your being able to repay your obligation are small, perhaps because of the possibility of bankruptcy. Settlements ordinarily stay on your credit report for seven years, but you can attempt to mitigate the damage to your credit score during your negotiation process.
Negotiate the Removal
Most creditors are not required to report negative information to credit bureaus, which you can use to your advantage. Collection agencies may be willing to delete the entry entirely as a condition of settlement. Others may not go that far, but may accept your request to mark the account "satisfied in full" as a condition of settlement, particularly if you're able to pay close to the amount of the balance. Debts also may be recorded as "settled," which at least leaves a more neutral impression. Otherwise, it will be indicated as "debt settled for less than the full amount due," or something similar. Get any agreement in writing and check your credit report afterward to confirm your creditor performed as promised.
Fix Errors
If a settlement is on your credit report erroneously and you've paid your balance in full, you'll need to file a dispute. Contact each of the three major credit bureaus -- Equifax, Experian and TransUnion -- and request an investigation. Each bureau has 30 days to investigate whether the settlement is valid or not, and if it can't confirm the details of the debt, the settlement record must be removed.