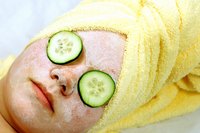 Home beauty care can easily be done with ingredients that you already have around your house or can find at the grocery store. Fruits, vegetables, oils and dairy products have ingredients that will cleanse, soothe and nourish the skin. For deep pore cleaning, face masks are usually the best way to get the dirt out. Preparing your skin before and after can make the results of the face mask even more effective and longer lasting.
Things You'll Need
2 Tbsp oatmeal
4 Tbsp brown rice powder
1 tsp kelp powder
1 Tbsp plain yogurt
1 tsp honey
water
1 Tbsp plain gelatin
1 1/2 Tbsps milk
1 cup distilled water
2/3 cup witch hazel
1/2 cup lemon juice
4 ounces jojoba oil
4 drops lavender essential oil
Glass jars
Double boiler
Glass or ceramic mixing bowls
Towel
Kettle
Dark, glass bottle with tightly fitting stopper
Mix oatmeal, brown rice powder, kelp powder, yogurt and honey with enough water to make a paste in a mixing bowl. The paste should not be thin and runny. Rub the paste on your face in gentle circles avoiding the skin around the eyes. Let it sit on your skin for up to 10 minutes. Rinse with lukewarm water. This will gently cleanse and exfoliate your skin.
Boil water in a kettle and pour it into a glass or ceramic bowl. Put a large towel over your head and let the steam from the water surround your face. Do not put your face too close to the bowl or the steam may scald you. Let your face steam for 10 minutes. Pat dry. Alternatively, add essential oils or flower petals to the steaming water to add to the experience. Steaming will open your pores allowing them to be easily cleaned.
Mix gelatin and milk together and warm in the microwave for 10 seconds. Apply the warm mixture to your face gently using your fingers or a small spatula. Avoid the eye area. Let the mask sit for 10 to 15 minutes and then peel it off. The gelatin will tighten as it dries and will remove much of the debris in your pores.
Pour lemon juice, distilled water and witch hazel into a dark, glass bottle. Shake well. Pour some of the liquid onto a cotton cloth and gently wipe your face. Avoid the eyes. This will remove any excess products from your face and will close your newly cleaned pores.
Add 40 drops of essential oil to four ounces of jojoba oil in a dark, glass bottle. Cap and shake well. Spread the oil gently onto your face with your fingers. This oil is quickly absorbed into your skin and will hydrate your skin and make a protective barrier.