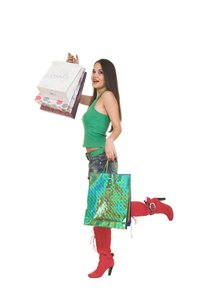 The cash register at a resale store should be set up in way that it ensures easy and organized checking out. Low prices at a thrift store prompt shoppers to buy large piles of items and so the register area becomes very busy and crowded. To manage this rush the register area should have enough space for a long line, a storage area and a cash drawer with ready small change.
Things You'll Need
Cash register
6-foot counter space with underneath storage
Telephone
3-foot heavy duty clear plastic sheet as wide as the counter
Storage for bags
Storage for hangers
Petty cash
Notebook
Bell
The Counter Space
Situate your counter in a direction that it faces the door. This will help you acknowledge incoming customers every once in a while. Allocate a 3-foot area for the check-out register and another 3-foot area for customers to rest their purchases on. Have telephone and electrical utilities handy in the area. Also leave enough room for a couple of employees behind the counter.
Place a storage container, like a tall trash can, to the right of the counter for holding bags.

Place a bin or rolling bar near your bag storage area for holding used hangers temporarily. Locate a larger storage area in a stock room away from the register to stow away excess hangers from the bin as they can really get unmanageable.

Cover the check-out area of the counter with a piece of clear plastic. Slide posters detailing check writing policies and store hours under the plastic for quick reference. Post important policies in writing as a ready guide to the waiting customers.

The Cash Register
Place the cash register towards the left end of the counter. The counter space to the right of the register is the only area available for checkout

Keep a consistent amount of petty cash in the register. Remove the profit daily for deposit. The petty cash, or float, can be left in the locked register drawer and used each day for change. Keep around $60 made up mostly of quarters, dollars and five dollar bills.
Store extra register tapes, pens, scissors, a notebook and a calculator in a cabinet or drawer below the register.

Plant a bell next to the register for a customer to give you a quick call for service when you are away from the register.

Keep a telephone next to the register for customer use. Tape a list of emergency numbers to the handset.