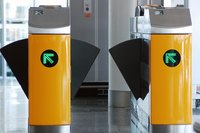 In the old days, tickets were paper. The agent at the airport checked them and wrote a boarding pass. Now, except for very small airlines, all tickets are electronic. Even if you have an electronic ticket, you still have to check in and receive a boarding pass. This can be done online with most airlines. Boarding passes can also be electronic, and delivered to the user's mobile phone. In that case, there is no need to print it. But if you want or need to print your boarding pass, there are two options: At home, or in the airport self-service kiosk.
Things You'll Need
Valid reservation
Identification
Computer with printer and Internet connection (for printing at home)
Credit card or mileage card (for printing at the airport)
At Home
Retrieve the reservation, either from the confirmation email or from the airline booking system using the reservation code.
Select seats if applicable. Some airlines allow this to be done only for certain classes of ticket.
Select if luggage will be dropped off at the airport, and how many pieces. The printed or electronic boarding pass must be shown at the luggage drop-off. Luggage tags will be printed at the drop-off desk.
Register any applicable mileage cards, if this is not done already. Verify that you have a valid passport.
Verify that all details are correct.
Check that the printer has paper and ink or toner, is switched on, and connected to the computer.
Press the printer icon; or select "print" from the browser menu and print the document; or select "print" from the resulting page. Note that the later option is not available for all airlines.
At the Airport
Go to the airline self check-in kiosk. Touch the screen.
Insert the credit card or mileage card which is the reference for the reservation.
Verify the trip details and personal details displayed on the screen. Verify that you have a valid passport.
Select seat if applicable. Some airlines do not allow seat selection for all ticket classes.
Follow instructions for completing the check-in, pressing the appropriate buttons to select if you want to drop off luggage, number of pieces, etc. The exact setup varies with the airline.
Take the printed boarding pass and luggage tags when the procedure is complete and they have been printed out. Affix the luggage tags to the luggage and go to the baggage drop-off desk.