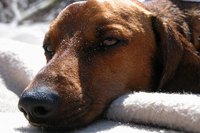 Store-bought bicycle trailers for dogs can be expensive, with some running upwards of $500. Yet, with the right tools and about an hour of your time, it`s possible to make a dog trailer at a fraction of the cost, Keep in mind though that a project like this is not intended for beginners. If improperly constructed, the trailer could lead to serious injury to riders and their dogs.
Things You'll Need
Aluminum tubing
Trailer base
Drill
Screws
Lynch pins
Nylon webbing
Double-sided tape
Rope
Drill holes through each of the four corners of the trailer base. Also, drill holes on either end of the aluminum tubing to match those on the base, and for later securing the nylon netting.

Secure the tubing to the base with the screws. Check to make sure the tubing is tightly secured.

Insert lynch pins through the holes in the top of the tubing, and string through nylon netting. After the initial setup is complete, position the netting so that it's taut, and secure it to the tubes with double-sided tape.
Tie a piece of rope, the length of your choice, to the trailer base attachment. Then tie the other end to the area underneath the bicycle seat or the trailer hitch.