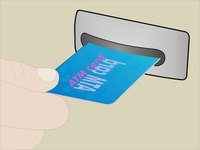 Automated teller machines are easy for a business owner to love. They like having them because they help generate cash sales and a steady stream of fee income as well. Businesses can own ATM machines outright, lease them from a finance company, or simply rent space in their business in exchange for a stream of fee income from the ATM.
Set up your business
Obtain a business license in your jurisdiction. Alternatively, you can join an existing company as a sales representative and operate under their business license, as an employee or an agent.
Contract with an ATM manufacturer or ATM services provider. Consider the nature of your market: Diebold is well-known for heavy-duty, permanently-installed ATM machines, for example, while the Triton Corporation has established a niche in smaller establishments with temporary free-standing machines.
Contract with an armored car service. Your customers may want to delegate the day-to-day task of stocking the ATM with an armored car service. If you sell ATMs, you may wish to sell the service behind them as well.
Contract with a finance or leasing company. Many companies choose to lease machines, rather than pay cash. That way, they can realize immediate potential positive cash flow as soon as the ATM machine is up and running. In order to sell ATMs to these businesses and get paid, you will need a financing company, which will enter a lease with your customer. Your customer will send a stream of payments to the finance company. In turn, the finance company will pay you or your employer an up-front sum, which supports a commission for you.
Go find prospects. Go door-to-door and ask to speak to business owners and general managers, or invest in advertising and telemarketing.