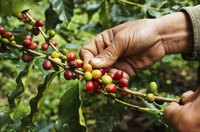 Mexico has been growing coffee for centuries, with much of its production originating in the tropical and mountainous south. Coffee farms in this region are, in general, small estates worked by local indigenous people, who cultivate coffee in the traditional shade-grown method and join cooperatives to market their harvest.
Find Your Place
Browse the online listings for Mexican agricultural land. Ranches, farms and orchards are listed on sites dedicated to foreign real estate. It will be considerably easier to purchase an existing farm than to develop a new one: establishing a coffee plantation requires many years of difficult work before the first bean can be harvested and sold. Look in highland regions such as Chiapas and Oaxaca, where Mexican coffee production is concentrated.
Navigating the Law
Hire an agent who knows Mexican real estate law and legal procedure. Buying land in Mexico can be fraught with lengthy, bureaucratic snarls. "Ejido" land, for example, legally belongs to an entire community, and challenges to the sale of such land can take several years. It is common in Mexico for title of small coffee farms to belong to a growers' cooperative or association, which adds a further complication. Buying title insurance is wise, as this insures you against claims by third parties on the land after you've made the purchase.
Staff and Employees
Engage an administrator to manage the farm and its operations on your behalf. Mexican coffee farms typically have permanent as well as seasonal employees. The administrator is responsible for overseeing these workers, the annual harvest and planting and machinery such as dryers, as well as water sources, utilities, irrigation, vehicles and buildings. An administrator should also handle the certifications you desire of your product, such as those of the Organic Crop Improvement Association and the Rain Forest Alliance. These certifications allow your coffee acceptance into certain markets and with distributors that require them.
Moving the Beans
Develop your farm's distribution channel, which for most growers in Mexico means joining a local cooperative. In a traditional Mexican coffee cooperative, individual farmers agree to sell harvested coffee to their association at a fair price, set each year according to the market price. The cooperatives, in turn, market their coffee to wholesalers and roasters around the world, who serve as a source for restaurants, hotels, grocery stores and coffee shops. Larger multinational cooperatives, such as the California-based Pachamama, also gather individual cooperatives into a much larger organization that can negotiate for distribution on behalf of all members.