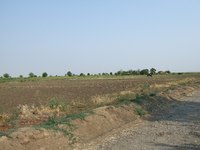 When shopping for a loan to refinance your land, make sure the benefits outweigh the costs. To cover the costs associated with refinancing, the new interest rate should be at least 1 to 2 percent lower than the rate on your current loan. Also, consider closing costs and payment amount when comparing mortgage companies and banks.
Locate a bank or mortgage company offering land refinancing. Generally, local banks offer the best terms for financing land because they are familiar with the area and land values. Also, they do not require an outside underwriter to approve applications, making it easier to get approved. Ask for the current rates for land refinancing.
Contact the company that financed your land originally. Tell the agent that you plan to refinance the property and ask what rates the lender offers for refinancing. If you have made payments on time and are a good customer, the lender may offer a discounted rate to keep your loan. Provide the lender with rates from other banks.
Provide a copy of the deed to the land. This gives the lender with the legal description, location and owner information. Also, give the lender the loan documents from your previous loan showing the original loan amount, terms of agreement and balance due.
Complete an application to refinance the land. Provide the lender with a copy of your income information, tax documents, bank statements and any other loan documents requested.
Sign the new loan documents that pay off the original loan. The new lender sends the payoff to the mortgage company, which in turn transfers the property deed to the new lender.