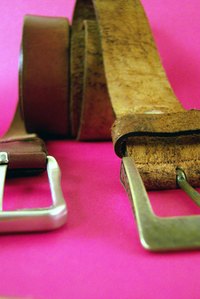 Protecting your leather is an important part of preserving it and thus keeping it in good condition long-term. Naturally, you can buy leather protecting products commercially, but you can also make your own homemade leather protector. You can use beeswax with olive oil, safflower oil, almond oil or mineral oil to make a homemade leather protector for your clothing, shoes and furniture. Best of all, homemade leather protector is less toxic and works equally as well as its commercial counterparts.
Things You'll Need
1 oz beeswax
1/2 cup olive oil
Microwave safe dish
Wax paper
Plastic spatula
Hair dryer
Soft cloth
Place 1 oz of beeswax and 1/2 cup of olive oil in a microwave safe dish. Cover the dish with a piece of wax paper and place it in the microwave.
Microwave the mixture on low heat or reduced power for 20 seconds. Stir with a plastic spatula. If the beeswax is not melted, reheat the mixture for another 20 seconds. Repeat this process until the mixture is completely melted.
Stir the mixture well with the plastic spatula. Dip a clean, soft cloth into the bowl of homemade leather protector.
Turn on a hair dryer and aim it at the leather item. Apply the homemade leather protector in a circular pattern while you are warming the item with the blow dryer. The warmth of the dryer will soften the leather and help it to better absorb the oil and wax.
Leave the leather protector on for 8 to 10 hours. Buff the leather item to a shine with a soft, lint-free cloth.