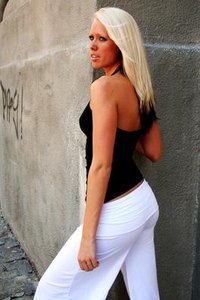 Not one to settle for a modest career, you have your sights set on emulating Michael Kors, Vera Wang or Kenneth Cole, fashion legends whose garments occupy entire floors of department stores. Before that can happen, you'll have to pay your dues and, short of hiring a representative to handle your brand's marketing while you sketch away, you'll also have to do the legwork it takes to get placement in those ivory towers of merchandising paradise: major department stores.
Things You'll Need
Portfolio
Samples
Resume/biography
Pitch/presentation
Nondisclosure form
Establish a sales track record if you want to be seriously considered as a contender for the highly competitive rack space found in major department stores. Launch your line in the usual way: get a great education, serve an apprenticeship or nab a job as a junior designer, and then enter the fashion market by getting placement in small boutiques under your own label.
Update your portfolio of designs with new seasonal pieces in ongoing fashion, as you'll need contemporary renderings and live samples of your designs every time you pitch outfits or whole collections to major department store buyers. Sew samples of your best originals or have them manufactured by a professional seamstress.
Prepare a formal presentation of your line for one major department chain. Tour the store you're planning to pitch before you assemble your samples. Check out the competition. Get a feel for the store's audience and ambiance, and then contact corporate headquarters. Ask for the name of the buyer or department head responsible for evaluating new designers. Book an in-person meeting to present your clothing.
Fine-tune your pitch before you head for your meeting. Arrive on time. Bring along your newest concepts and samples—the ones that best reflect the demographic of that department store. Present your resume or biography as well as photos of garments sold by shops that carry your line. Ask the people who attend the meeting to sign a standard nondisclosure statement in which they agree to keep your sample design concepts confidential.
Pull out all the stops during your presentation. Assure buyers that you're aware of the value of every square foot of space in their store. Show off your fashion-forward thinking to convince your audience of your staying power. Prepare to leave behind materials or samples if so requested.
Wait for a response from major department store officials before approaching another chain, as it may take time to pass your materials up the corporate ladder. Call if you've been given a tentative response date at the pitch meeting and that date has passed. Hold a pity party for yourself if you're turned down, and then get back to work. Rejections and tenacity are both mandatory if you hope to walk into major department stores in the future and find your designs neatly displayed beside the escalator.