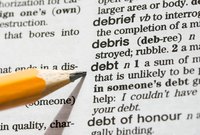 Collection agencies help businesses collect accounts which are past due. Starting a collection agency can be an excellent home-based business for the right person. Start-up costs are minimal and overhead expenses are low. Although no specific training or degree is required, a background in accounts receivable, collections or customer service is helpful. Tenacity, persistence, and good organizational and negotiating skills are key to success in this field.
Research and familiarize yourself with all local, state and federal regulations governing collection activity. Study the Fair Debt Collection Practices Act (see Resources) so that you are aware of and act within legal guidelines when contacting debtors. Consult an attorney if you are unclear about any rules.

Comply with all state and client requirements for operating a collection agency. Requirements differ by state and may include obtaining a collection agency license or maintaining a surety bond. In addition to the state, your clients may require you to carry insurance, including Errors and Omissions, Workers' Compensation, Commercial Crime and General Liability. You may also need to establish a trust account for the money you collect.

Set up a dedicated home office with a computer, telephone, paper shredder and file cabinets. Ideally the office should have a door that can be closed to minimize distractions and assure client privacy. You will be working with individuals' nonpublic personal information and, in the case of medical collections, protected health information, so you must comply with privacy laws. Thorough and accurate record-keeping is essential to compliance, as is the use of file cabinets that are locking and preferably fire-proof.

Plan the sequence, frequency, and content of the letters and phone calls you will use in collecting from past due accounts. You can purchase software designed for collection agencies with templates of collection letters and scripts for phone calls. This can be helpful for getting off to a quick start but many books are also available on the topic and basic word processing and spreadsheet software will do the job as well.

Join a professional association such as the Association of Credit and Collection Professionals. Membership benefits may include newsletters with updates on regulations and laws, educational resources and materials, and also online and in-person training opportunities. Associations can be an excellent source for bonding, licensing and insurance products. Online forums may provide the support and expertise of more experienced collectors that can be invaluable as you start a new business.

Have an attorney draft a client contract based on the percentage of the collection amount you charge as your fee. Because you collect the money, your fees are generally deducted first and the balance is sent to your client. With average fees ranging from 35 to 50 percent, operating a collection agency can be quite lucrative. Better still, because you're always paid first, you should never require your own services.