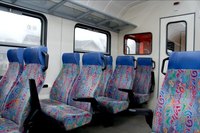 Three train services arrive daily in Washington, D.C., according to the Beginners Guide to Train Travel in the U.S.A. website. Cross-country trains run once a day. Routes from Washington to major cities run several times a day. Long-distance trains on the East Coast run once or twice daily.
Things You'll Need
Contact Amtrak train service. Amtrak offers coast to coast, East Coast, and local service through Washington, D.C. Long-distance trains are equipped with sleeping quarters, dining cars, observation lounges and route guides to let you know what sites to look for.
Connect with the Maryland Railroad Commuter Service (MARC) for Washington schedules. Maryland runs three commuter train lines; two of which go between Baltimore, Md., and Washington. This system connects with the Washington Metropolitan Area Transit Department.
Travel with Virginia Railway Express. VRE connects Virginia and Washington. This railway has one line starting from Fredricksburg, Va., and one line starting from Manassas. VRE stations in the district are located in, L' Enfant Plaza, Union Station, and Crystal City in Arlington Va.
Familiarize yourself with Metrorail, the city train system, which is operated by the Washington Metro Area Transit Authority. You can find a station by locating the tall brown columns with the letter "M" on a yellow sign.