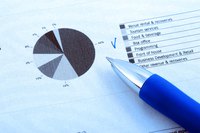 Risk can be defined as the uncertainty of the objective. Banks need to take risks in order to maximize profits in the present banking environment. The levels of risk have to complement the expected returns, and certain financial indicators are needed as a guide to achieving the optimal mix. According to Professor E. Philip Davis, different institutions have different investment policies and thus the optimal risk will vary accordingly. A retail bank's risk assessment will be different from an Investment bank's pursuit of high and superior returns. Risk is a key aspect of all investment objectives and the conventional financial economist's school of thought is that "the higher the risk the higher the returns."
Use financial ratio analysis. The return on assests (ROA) is most commonly used for its simplicity and provides a snapshot measure of the risk and performance. It mainly captures the banks ability to make returns from its services including net interest income. ROA=Net income / Average total assets
This data is easily accessible in the bank's audited accounts and very likely will have been already calculated. An industry comparison can guide you as to whether the figure is above par and hence the bank's overall performance is superior.
Look at the financial statements: the balance sheet, the income statement and the cash flow statement. The statements of shareholders' equity and retained earnings, which are seldom presented, contain nice-to-know, but not critical, information, and are not commonly used by financial analysts. Take the audited accounts of the bank for the past year and pay keen attention to the customer's deposits as they are a good indicator of how the bank is performing. The liabilities compared with the assets also provide great insight into the extent of risk the bank has undertaken.
Do a cross sectional analysis by comparing the financial statements with different banks of similar market share size operating within the same economy. You can access the accounts online; copy and paste them on your Excel spreadsheet and match the items into different columns such as customer deposits, interest rate charged and interest earned. This will give you a clear indication of how the bank is performing compared with other banks.