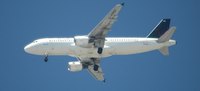 Though the days of standby tickets for budget travelers are gone, you can still fly standby with an employee pass on Air Canada. Current and former employees and their family members or travel companions can capitalize on this inexpensive way to fly. The key to snagging a standby seat is to be courteous and follow the rules.
Things You'll Need
Air Canada staff pass
Appropriate attire
Book, magazine, or laptop
Check on seat availability in advance for the day you are wanting to fly. The Air Canada employee site will tell you how empty or oversold the flight is.
Follow the Air Canada dress code. Do not wear provocative, athletic, or beach clothing and footwear, because you can be denied a seat on the flight. If you are hoping to get bumped up to business or executive class, you should also refrain from wearing jeans or any skirt with a hemline above the knee.
Arrive at the airport one and a half to two hours before your flight. For International flights, arrive even earlier. Though there is a hierarchy to standby seat assignments, you want to be the first to check in from your category.
When you reach the gate, if the gate agent is free, announce yourself and ask how the passenger load for the flight is so far. If there are paying customers already waiting to talk to the gate agents, it is not appropriate to monopolize their time. Bothering them can result in your removal from the standby list.
Sit near the gate agent's desk while you are waiting. Keep yourself busy with a book, magazine, or laptop. Do not bother the crew, but stay within their sights. Listen for an announcement regarding standby passengers. This will not happen until the crew, bumped passengers, and seat change requests have been accommodated.
If your name is not called for a seat on the flight, wait until the other passengers have boarded to talk to the gate agent about the next flight.