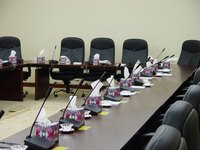 With all of the demands and costs of business operations, telephone conference calls have become a viable way to hold business meetings. Telephone conference calls, or teleconferencing, allows the participants to call in from any where in the world and conduct a meeting by phone 24 hours a day.
The telephone conference-call industry serves the needs of businesses who would prefer to meet by phone rather than spend the money to fly employees to meetings. The number of participants is unlimited in most cases, and some telephone conference-call companies charge a fee, while others offer a free conference-call service.
Research telephone conference call companies and perform due diligence. Determine what features you will need for your conference call. For example, many conference call companies offer a free recording of the call, free playback of the conference call, and free entry and exit tones when participants enter or exit the call. In addition, some conference call companies are free, but the participants pay to dial in to your long-distance conference call number. The conference call itself is free. Although your conference-call number is unique to your company, it is a long-distance number. Other conference-call companies charge a per minute fee to the host of the conference call, and all participants can call in free of charge.
Sign up for a conference-call service provider. Once you have considered the costs, the services and the features of the conference call company, then register with your chosen conference-call company. Registration for most conference-call providers is free and payments are made after the completion of the call.
Safeguard your unique conference-call number, the host access code, the participant access code, and any pin numbers, for recording and playback.
Schedule your first conference call by sending an email to all participants. Include the conference call phone number, participant access code, time of the conference call, and the agenda. Make sure that the participants are aware of any time constraints of the call and make sure that participants have a list of all of the participants scheduled to attend the conference call.