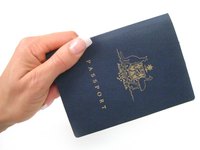 In order to travel outside of the United States, a passport is required. Passports require preparation before the application can be filed and a passport can be issued, but any U.S. citizen can apply for a passport. A United States post office is one of the most common places to apply for a passport.
Prepare for Application
Fill out form DS-11. The form can be printed from the U.S. State Department's website or picked up at your local post office. This is the application for the passport. Do not sign the form until you are instructed to do so by an acceptance agent at the post office. The form must include your Social Security number to avoid processing delays or the denial of your application.
Obtain proof of U.S. citizenship. According to the U.S. Department of State, primary evidence of U.S. citizenship is a previously issued, undamaged U.S. passport; a certified birth certificate issued by the city, county or state; a Consular Report of Birth Abroad or Certification of Birth; a Naturalization Certificate or a Certificate of Citizenship. Any documents you provide will be returned to you.
If you do not have any primary evidence, you must submit secondary evidence. This can be an early public record, a delayed birth certificate, a Letter of No Record, Form DS-10: Birth Affidavit, or foreign birth documents and parent(s) citizenship evidence (See Reference 1).
Photocopy the front and back of each document to give to the acceptance agent at the post office. You must bring your original documents as well, but they will be returned to you.
Take two color passport photos. Your photographs must be identical, 2 x 2 inches, printed on photo-quality paper, taken within the past 6 months, full face, front view with a plain white or off-white background, between 1 inch and 1 3/8 inches from the bottom of the chin to the top of the head and taken in normal street attire. Uniforms should not be worn in these photographs except for religious attire. Hats or headgear that obscure the hair or hairline are prohibited. If you normally wear prescription glasses, a hearing device, wig or similar articles, they should be worn for your picture. Dark glasses or nonprescription glasses with tinted lenses are not acceptable unless you need them for medical reasons, in which case a medical certificate may be required, according to the U.S. State Department.
Apply at Post Office
Submit your completed DS-11 form to the acceptance office in your local post office. Sign the form only when they tell you to.
Submit your evidence of U.S. citizenship to the acceptance agent.
Present identification. This can be a previously issued, undamaged U.S. passport, a Naturalization Certificate, a valid driver's license, a current government ID or a current military ID.
Submit your photocopied identification documents.
Pay the applicable fee. For first-time applicants, an adult passport book and card cost $140 for the application fee and $25 for the execution fee. The passport book costs $110 plus the execution fee and the card costs $30 plus the execution fee. For adult renewals, the passport and book cost $140, the book $110 and the card $30. Optional and special services will cost more.
Submit two passport photos.
Complete application process. Once all of your information is submitted appropriately, processing will take from four to six weeks. Applicants can pay an additional fee to expedite their application. Expedited applications take two to three weeks to be processed.