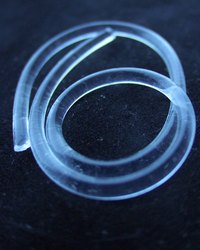 A nebulizer is a device used to turn liquids into mist, which then can be inhaled easily into the lungs. Medications for various illnesses and medical conditions that require respiratory ingestion of the treatment use nebulizers to convert and administer the medicine. While the devices are fairly simple to operate and maintain, there are a few key parts that you will need to troubleshoot if you experience any difficulties in getting your nebulizer to work.
Things You'll Need
Disconnect each end of the tube from the bottom of the nebulizer cup and the nebulizer and run water through it. This will help dislodge any blockages that may be preventing the airflow through the hose.
Turn the top of the nebulizer cup counter clockwise to lift it off and expose the cup baffle within. Take the baffle and the cone below it out of the cup. Rinse them with warm water and dish soap to remove any clogged medicine.
Wash out the nebulizer cup by soaking it in warm soapy water. Rinse out the cup until all of the soap is gone and the water can flow easily from the cup openings.
Test the outlet you are using for the nebulizer with another device that you are sure is working. This will help you determine whether there is electricity running to the outlet.
Plug the nebulizer firmly into a working outlet and make sure the plug is held securely inside the socket. A loose connection may interfere with the nebulizer's performance.
Attach the hose to the output port on the nebulizer and push it all the way in to achieve a good connection. The output is where the air flows out of the nebulizer.
Put the loose end of the hose onto the bottom of the nebulizer cup and reassemble the cup. Make sure you put in your dose of medicine before putting on the cup cover.