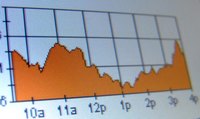 Creating an investment portfolio can be a nerve-racking event—you know you'll be investing a large sum of your savings with no guarantee that you'll see any return. Worse yet, you may lose some of your investment. While it's true that stocks can be volatile at times, you can arm yourself with the right knowledge and strategy to calculate the best portfolio that suits your needs. Also, keep a realistic perspective on how you expect your portfolio to perform. This will keep you from making rash decisions.
Diversify your stocks on several levels. This will help ensure that you don't "put all your eggs in one basket" as the old saying goes. This goes beyond investing in different companies. You need to consider the type of companies you're investing in and if they are regional or national. This will help protect your portfolio against substantial losses all at once.
Invest in stocks that have been shown to grow steadily and slowly over a long period of time. Sure, investing in these companies will not get you rich quickly, but it will add some needed stability to your overall portfolio.
Invest in more volatile stocks according to how much risk you want in your portfolio. Some investors may want a slow, steady return, while others are willing to trade stability for the chance of seeing huge returns. Be honest with how much of a risk you're willing to take, because optimal portfolio calculations take individual needs into consideration. What may be optimal for one person may not be for another. Know what you want and act accordingly.
Invest in different assets besides stocks, such as bonds and cash. This is known as asset allocation and will add stability to your overall portfolio.