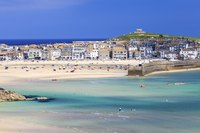 Look at a map of Great Britain, and the county of Cornwall resembles a foreleg protruding into the English Channel, culminating in the nation's southwestern tip at Land's End. With no motorways, only one domestic airport, and a skeleton railway network, Cornwall can feel like another country -- and indeed has its own language and independence movement. In summer, though, vacationers descend en masse from across the UK to enjoy 300 miles of coastline, pasties, cream teas and some of Britain's best surfing. Year-round cultural attractions include the Eden Project in St. Austell, the Tate Gallery in St. Ives and Rick Stein's restaurants in Padstow.
Heading West
For many families, the westward slog to Cornwall's coastal resorts is something of a summer rite of passage. From London, drivers can hurtle west along the M4 at a good pace before picking up the southbound M5, which links Birmingham to Exeter in Devon, Cornwall's neighboring county. The only way to penetrate Cornwall's wide-open moors and farmland, though, is the dual-carriageway A30, which runs all the way to Land's End. On paper, the entire 230-mile journey could take just five hours, but in reality, traffic backs up during peak season along the A30 toward Bodmin, especially on weekends. Leaving the A30, drivers need to follow narrow, winding roads fringed by high hedges toward the coast, where slow-moving agricultural traffic holds dominion. An alternative final leg is the A38 from Plymouth to southeast Cornwall, but again, progress can be frustratingly slow in peak season.
Overnight Train
First Great Western trains operates all routes to Cornwall and the Southwest. Trains to the West Country leave Paddington station in London and New Street in Birmingham several times a day, stopping in Exeter and Plymouth in Devon and St. Ives and Truro in Cornwall on the way to Penzance. The journey takes five to six hours. Alternatively, passengers can take the Night Riviera Sleeper service to Penzance, an overnight train with berths in single or twin cabins. The train leaves London Paddington just before midnight and arrives in Penzance shortly before 8 a.m. Passengers can buy snacks from the lounge car and enjoy complimentary breakfast served in the sleeping cabin.
Coach Trip
National Express maintains a coach service from London's Victoria terminal to Truro and Penzance. The journey, however, lasts a grueling eight hours. Once in the county, visitors will find that buses are the best way to get around, with local services linking St. Ives, Falmouth, Boscastle and beyond. Passengers who wish to explore Cornwall by coach can snap up a Ride Cornwall ticket, which allows unlimited travel on public transport for a day at a time. In summer, look also for the number 300 bus service, an open-top, hop-on, hop-off service from St. Ives all the way to Land's End.
Domestic Flight
Cornwall's only airport hub is in Newquay, the county's surfing and social hotspot. The airport has links to London Gatwick in less than an hour, and Manchester on FlyBe. In summer, the service expands to cover flights to London Stanstead and cities farther afield, such as Liverpool, Edinburgh and Newcastle. The airport is 5 miles from the town. A handful of taxis ply the route, but passengers can also book a place on the Summercourt On-Demand Bus Service, which departs every 30 minutes. Another strategy is to fly into Exeter Airport in neighboring Devon, which has links to a greater variety of national and European destinations through FlyBe, and then take the train or coach to Cornish towns.