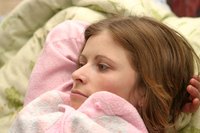 Lisdexamfetamine dimesylate, or Vyvanse, is a prescription medication for the treatment of attention-deficit hyperactivity disorder, or ADHD. Side effects are similar to those of other stimulant medications. Many side effects will go away with continued use. Until then, coping strategies can help you manage the side effects.
Consult your doctor about medications for stomach problems. Upper belly pain is a common side effect of Vyvanse, according to the company website at Vyvanse.com. Call your health care provider if you have difficult moving, bloody diarrhea or chest pain.
Go to your doctor if you experience dry mouth. She may prescribe medications to stimulate saliva production, or even consider switching you from Vyvanse to a new medication.
Eat higher calorie foods to prevent weight loss if Vyvanse decreases your appetite. Don't turn to foods high in saturated and trans fats, like cakes and cookies. Choose healthy fats found in nuts, avocados or olive oil. Consume nutrient-dense, high-calorie foods like dried fruits and cheese. Drink caloric beverages with lots of vitamins, like juices and smoothies.
Try exercise, stress management techniques or counseling if Vyvanse makes you irritable. Make sure your loved ones know that the medication is causing this side effect and apologize if you lash out.
Treat nausea with over-the-counter motion sickness medications. Ask your doctor how often it is safe to use these medications.
Tell your doctor you'd like to switch to another medication if you can't deal with dizziness, another possible side effect. Dizziness is usually treated by dealing with the underlying cause such as inner ear infections or migraines, according to MayoClinic.com.
Take your last dose of Vyvanse early in the morning to prevent insomnia. If you still can't sleep, talk to your doctor about prescription sleeping medications or a new ADHD medication.
Alert your doctor immediately if you experience aggression, abnormal thoughts or behaviors, mania, growth suppression, worsening of motion or verbal tics, Tourette's syndrome, blurred vision, symptoms of depression or bipolar disorder, seizures or abnormal EEGs, high blood pressure or symptoms that suggest heart problems, such as chest pain or fainting.