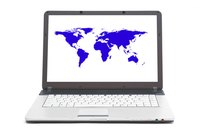 A website is only serving its purpose when it has a regular stream of traffic. Its aim may be to entertain, educate or earn money, but without people visiting the site it will not achieve its goal. For maximum benefits, encourage visitors to return, and the most effective way to achieve this is to keep the website fresh with regular updates. There are several effective ways to inform website users of updates.
Things You'll Need
Internet connection
Current updated website
Email provider
Cell phone
Email all your members as soon as you have completed an update on your website. Create an exciting email and think out of the box to get readers' attention. Use the announcement of a contest or free offer available on your website to draw visitors back to the site.
Include an email signature and change it regularly as new content is posted on your website. Use this signature for all your emails so all your contacts receive your update announcements.
Publish a newsletter on a regular basis to your subscribed list and always start with announcements of updates. Invite your list to visit the site to see the updates. Ask them to pass on your newsletter to any one they feel may be interested in your products.
Use viral campaigns such as YouTube videos or Digg, with your update as the byline, to spread the announcement. Be creative and aim to generate buzz that ensures viewers circulate your announcement.
Sign up for various social media communities such as Twitter, Facebook and Linkedin. Work hard on getting friends and followers and post your updates regularly for all to see. Join in with social bookmarking communities such as Digg and Google Bookmarks where information about websites is shared among the community.
Get involved with like-minded forums and discussion groups. Give helpful advice and use your signature to announce updates.
Include rich site summary (RSS) on your website to allow visitors to stay informed of updates.
Text members when you update your site. Ensure they have opted in to this service first. Remember to include your website address in your text.