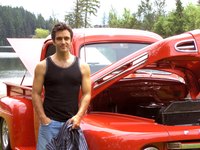 In "The Little Road Trip Handbook" author Erin McHugh stresses that the car is the most important aspect of your road trip. She discusses the importance of making sure your car is in good repair and recommends securing a roadside assistance plan. Taking your road trip in a rented car lets someone else take care of those details, so you can get on with your adventure!
How to Rent a Car for a Road Trip
Check your mileage and reward points. Points from certain plans can be used for car rental.
Determine which vehicle type will suit your needs. Consider how many people will be traveling, how much luggage and gear you need to store, and how much you intend to spend. The Independent Traveler lists other details to consider, including storage racks, car seats and whether the car is manual or automatic transmission.
Select a rental company. You'll want to consider multiple criteria for your selection. The availability of your preferred vehicle type as well as pricing will help you make your final decision. In "The Savvy Consumer" author Elisabeth Leamy suggests checking prices both online and over the phone, as they may differ.
Reserve your car online or by phone, depending on which source offers the lowest price. Leamy also suggests, on the day of your trip, that you walk in to the office as if you were a new customer, and only reveal your reservation if you are unable to get a better deal or are told no cars are available.