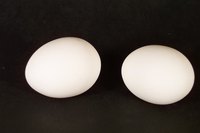 While some oil is good for your hair, too much can leave it looking greasy. Often times individuals try to shampoo their hair excessively to remove the extra oil, but this isn't good for the scalp. In fact, shampooing too much can cause the scalp to produce even more oil. A better solution is to make a homemade hair mask that will help decrease the amount of scalp oil. This all natural approach will provide your scalp with the extra nutrients it needs for optimal health.
Things You'll Need
Small bowl
1 egg
1/2 tsp. liquid vitamin B-6
2 Tbsp. olive oil
1/2 cup nettle infusion
Plastic wrap
Crack an egg over a small bowl. Discard the shell.
Add 1/2 tsp. of liquid vitamin B-6, 2 Tbsp. of olive oil and 1/2 cup of nettle infusion to the raw egg in the bowl.
Mix all of the ingredients together and pour over your hair. Saturate your hair with the mixture. If you have long hair, you will want to twist it and place it on top of your head.
Wrap plastic wrap around your hair and let it sit for 60 minutes.
Remove the plastic wrap and wash your hair as you normally would.