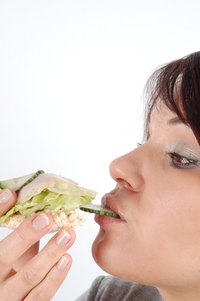 Breaking free from emotional eating is not going to be easy. You are trying to break habits that have formed over a long period of time, in some cases a lifetime. Challenging yourself and making small changes should set you on the way to freedom and put you back in control of your eating.
Become Aware of Your Eating Habits
Record everything that you eat and drink in a diary everyday. Make sure to write down the day of the week, date and times of food consumption.

Note the times that you are eating and if you are really hungry at those times. If you are feeling hungry right after eating a meal, it is likely that you are eating for emotional reasons rather than because you need to eat.
Pinpoint what is triggering your emotional eating. Examine why you are eating at these times; ask yourself if you are stressed or unhappy. This might be the key factor in solving your problem.
Be Mindful
Eat "mindfully." This means that when you are eating, sit quietly and eat the food slowly. Chew your food well and taste the flavors.

Listen to your body, think about when it is telling you that you are full. You don't need to always feel full, you just need to feel satisfied.
Create a pleasant environment for meals. Eating on the run, while watching TV or while having intense conversation, will not improve your relationship with food. At home, find a quiet space just for you. It is really important to give yourself that time.
Change Your Habits
Change the things you do that might trigger emotional eating. If you come in from work and sit in front of the TV and munch away on anything you can find; get up and do something different.

Change the things that you consume. If you drink sweet, fizzy drinks all the time change to water, fresh juice or herbal tea.
Join a class, this could be an exercise class, a dance class, a philosophy club or a bowling league. Find something that you enjoy that will allow you to meet people and concentrate on living.