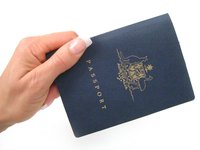 A United States Passport offers American citizens a key to the world. Having a valid passport is essential for international travelers, even if they only plan to visit our neighbors Canada or Mexico. If you gather all the required information and allow plenty of time for your documents to be processed, the application procedure is simple and straightforward. Once your passport arrives, your biggest problem will be trying to decide which country to visit first.
Things You'll Need
Passport application form DS-11 (online or physical)
Social Security number
Birth certificate or proof of U.S. citizenship
Drivers license or proof of identification
Recent 2x2 photo
Processing fee
Locate an official passport processing center, such as a post office or courthouse. If you are unsure where to go, visit the State Department website (see References) to find your nearest location.
Bring your required identification, photograph, processing fee and the completed DS-11 form (if you filled it out in advance) with you to the processing center. If you do not have a photo, some post offices can take one for an additional $15. Check with your local branch.
Fill out a DS-11 form and present all proper documentation. Make sure to have your payment readily available. A standard passport book will cost $135 (as of 2010). A passport card is $55 and is used only for reentry into the U.S. from Canada, Mexico, the Caribbean and Bermuda through seaports and land border crossings; it is not valid for international air travel to the U.S. You can purchase them both for $165.
Allow six to eight weeks for your passport to be processed and returned. You can request expedited processing of your application for a fee of $60 through the Department of State's Expedited Passport Processing Service (see References).
Check the status of your passport application through the Department of State's website (see Resources).