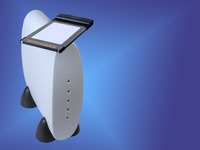 According to a recent Federal Communications Commission survey, nearly 65 percent of American adults have broadband Internet connections at home. Users feel that the Internet is important for communicating with family and friends, staying in touch with community news, and sharing photos and videos. As the adoption of high-speed Internet access continues to increase, reselling broadband services presents a viable business opportunity, particularly as an incremental revenue source for a complementary service such as satellite TV or computer repair. Most broadband providers have reseller programs, with options ranging from simple referral agents to integrated value added resellers.
Things You'll Need
Business entity (corporation, partnership, sole proprietorship)
Determine what broadband services and providers are available in the area where service is to be sold. Options include DSL, cable modem, T-1, fiber and wireless. To find providers, check the phone book, review competitors' offerings, and search online.
Contact each provider and ask for information about their reseller programs. Important questions to ask include: -What is the commission structure and rate? In particular, are commissions paid on a one-time basis or via ongoing residual payments? -Are there minimum monthly or annual sales volume requirements? -Are there "charge backs" for canceled services? "Charge backs" are used by some providers to recoup commissions if a customer cancels services after a commission is paid to the reseller. -What is the payment process for commissions? -Does the program allow multiple types of services from multiple providers to be sold, or does the provider request that their service(s) are sold exclusively? -What are the resellers' duties? -What type of training is available? -What type of ongoing marketing support is provided? -Does the provider offer an online sales portal or other tools for resellers to use to enter orders? -What type of support does the provider offer to both end-user customers and to resellers? That is, is there 24/7 telephone support available? Are there online resources? What are the providers' emergency procedures?
Review the program(s) and compare to the business objectives to select the best fit.
Considerations: -Reselling at least two services will provide customers with multiple options and allow for more business flexibility, so programs requiring exclusivity might not be the best choice.
-Some providers will pay higher commissions to resellers who provide installation services and ongoing customer support. If the business has no installation or support resources, or if such services are limited, the incremental cost of mobilizing additional help might offset the increased commission. -Many providers offer retail displays, demo units, collateral, market development funds and co-op funds. Some programs require the reseller to match any marketing funds on a dollar-for-dollar basis; others provide 100 percent reimbursement of the cost of approved marketing activity.
Prepare a broadband services business plan. Many providers will require this as part of the reseller application process. Include information such as: -How many potential customers will be contacted per day, week and month? Include marketing to any existing customer base, if applicable. - Expected sales volume. -The cost of sales, including any internal commissions and marketing. -Planned marketing tactics, which might include in-store displays for retail locations, fliers and door-hangers for door-to-door sales, direct mail, print advertisements and an online strategy.
Review and execute contract(s) with the chosen service providers. Specifically, the agreement should include: language describing the term of the agreement; each parties' duties, including a provider service level agreement; the consequences of early termination; any potential liability the reseller assumes; and recourse if the provider fails to make timely commission payments.
Attend training, or otherwise work with the service providers to gain a thorough understanding of the service(s) to be resold. Be certain that every employee has a solid understanding of the broadband service(s) benefits and limitations, including: equipment requirements; installation and/or activation processes; any contract requirements the customer needs to sign; the exact costs; and how to place an order.
Host an event such as an Open House, Grand Opening or Customer Appreciation Day to showcase the new service. Many broadband providers will provide marketing launch support to announce service availability at a new location.
Execute the business plan. If sales volume meets or exceeds the provider's requirements, negotiate a bonus or increased commission amount, as the contract(s) permit.
Conduct surveys to determine customer satisfaction. Notify providers of any issues, and ask satisfied customers for referrals.