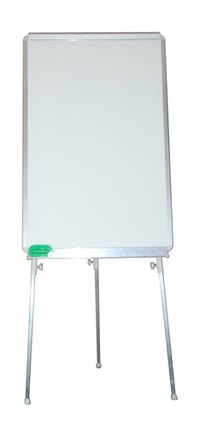 Whiteboards are a popular substitute for traditional chalkboards in homes, schools, offices and libraries. These boards require marker pens for vivid visual presentation and are invaluable to those with an allergy to chalk dust. They are suited for placing near dust sensitive electronic devices like computers. They can also serve as projection screens in business meetings. High protective enamel coated steel board surfaces ensure durability, scratch and chip resistance and suitability for high intensity usage when compared to low cost, plastic surfaces with short life-spans.
Things You'll Need
Steel board
Lightweight honeycomb/ Styrofoam
Adhesive
Latex-based, high-gloss enamel paint
Aluminum frame
Clamps
Stand/easel
Paint pad/flock roller
Paint primer for metal surfaces
Whiteboard-cleaning solvent or a mixture of equal parts rubbing alcohol and water
Buy a 180-by-120-cm steel board if you want landscape board orientation, and one measuring 90 by 120 cm for portrait orientation. Clean its surface of dust by washing with soap and water. Remove grease and oil using graffiti cleaner. Apply a coating of paint primer on the steel surface with a paint pad so that enamel paint coating binds well with it. The primer ensures the enamel coat and gloss are uniform on the board. The primer will also prevent corrosion by making the steel-surface impervious to moisture. Allow the primer paint to dry.
Use thin latex-based high protective white enamel paint with water. Apply the thinned paint on the steel surface over the primer undercoat with a paint pad/flock roller within 12 hours after the minimum re-coat time of primer paint has passed. Allow the coated board to dry out completely. This will only take one to two hours, as latex based paints dry quickly.
Paint the enameled board with an even coat of optically clear, water-based whiteboard coating, using the paint pad/flock roller. Allow this coat to touch dry; this will take about an hour.
Attach the steel board coated with the high protective enamel to the lightweight honeycomb/Styrofoam substratum--horizontally for landscape orientation and vertically for portrait orientation. Mount the board on the aluminum frame using clamps.
Allow a 72-hour time gap after the whiteboard coat has touch dried before preparing it for use. Then, wipe the enameled board surface with a cloth infused with a few drops of solvent.
Clean the surface with fresh water. Wipe the damp surface dry with a soft cloth. Place the frame on an easel about 150 cm high, or mount it on a wall. The board is now ready for use.