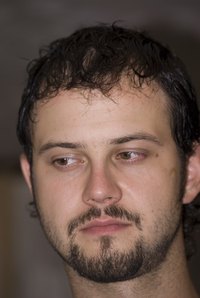 Your moustache may require regular maintenance to keep a pleasing shape. Using wax to control moustache hair was quite common back in the days when handlebar moustaches were popular. Whether you are a member of a barbershop quartet or simply a man who takes pride in grooming his moustache, you can make your own moustache wax that will keep for months in a cool, dark place.
Things You'll Need
1 tsp. powdered gum arabic
1 tsp. liquid oil soap (such as Murphy's Oil Soap)
2 tsp. water
2 tsp. beeswax
Stainless steel serving dish (approximately 6 in. by 10 in.)
Stainless steel spatula
Small glass jar
Glass jar or other small container with a lid
Favorite scent of essential oil (optional)
Place in the stainless steel dish the powdered gum arabic, water and liquid oil soap. Stir the mixture well.
Melt the beeswax in a glass jar in the microwave according to the package directions.
Hold the stainless steel dish over a hot stove burner or a hotplate and stir it with the stainless steel spatula. You want to gently warm the mixture. If the dish gets too hot to hold, then you are overheating it.
Add the melted beeswax to the stainless steel dish. Continue to hold it over the the stove while you are stirring the mixture. Once it is a uniform consistency, remove it from the heat and set it on a trivet or potholder to cool to room temperature.
Pour a few drops of your favorite essential oil into the mixture while stirring it.
Scrape the mixture off the bottom of the dish and continue scraping and stirring until it reaches a smooth consistency. You may need to add water to create a smooth texture, but add only a few drops at a time.
Store the moustache wax in a small jar or other container with a lid.