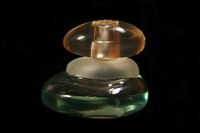 A perfume business presents a great opportunity for the solo entrepreneur because of its portability and the creative nature of the work. Prepare yourself with information and supplies, keep a marketing plan in mind and know the territory of perfumery in particular before working to make your own perfume business into a major endeavor.
Review local laws. As of 2010, U.S. law does not require special declarations of perfume ingredients, but that may change. HR 5786, the Safe Cosmetics Act, may pose challenges for starting perfumers in the United States. Other countries have testing regulations that make perfumery a more difficult startup business. Be aware of the regulations you will need to follow before you make your own perfume.
Learn the trade. Make sure you thoroughly understand the concept of base, heart and top notes, the different levels of scent which define a perfume. Mandy Aftel, in her book "Essence and Alchemy," recommends a ratio of 40 percent base notes, 30 percent middle notes and 30 percent top notes in a natural perfume. Understand the process of how compounds "marry" together to form scents that change in complexity over time. Read every book you can find on the topic of perfumery, ancient or modern, as the art takes a lifetime of study to master.
Select ingredients to make perfume with. Some good beginning oils, according to Mandy Aftel, include labdanum, oakmoss absolute and benzoin as base notes, clary sage, geranium and ylang ylang as heart notes, and citrus oils, black pepper, bois de rose and cedarwood as top notes. Rarer base notes include vanilla, angelica root, ambergris, civet, tobacco absolute and ambrette seed. Stores such as Whole Foods carry some of the more common ingredients, but make sure to secure wholesale sources for your favorite ingredients before making final business plans. Not every supplier specializes in the same ingredients and no one supplier carries every ingredient needed, though some online retailers come close.
Decide whether or not to use artificial ingredients. Chemical perfumery makes a tougher start-up than natural perfumery and presents more complexity. If you plan to dabble in chemical perfumes, expect to spend a long time learning the properties of different ingredients, and try following known recipes such as the ones at Perfumer's Apprentice before making your own blends. Perfumer's Apprentice offers small quantities of some chemical ingredients, while others can only be bought in large amounts from supply houses such as Givaudan or various international suppliers.
Set up a lab in your work area before moving further. Each item has a use. Glass "euro dropper" bottles or glass vials with orifice reducers can hold essential oils without suffering damage from the strong compounds like a rubber bulb would and allow easy transfer of one drop at a time. Alternately, use plastic pipettes to move oil from one bottle to another, although this can allow more scent to permeate the air and confuse your sense of smell. Rinse pipettes with alcohol between uses, or discard. Store oils in darker colored glass, like amber or cobalt blue, and keep them in a cool, dark place.
Begin to make perfume. Start by mixing low quantities of ingredients until a blend seems interesting, then increase the quantities. Use test strips to let the results dry and smell them as they continue to evolve, as not all perfumes smell the same wet and dry. According to an interview with Corinne Marie-Tosello, first test perfumes on strips and then on skin, as skin chemistry can also make a difference in how the final result smells. Dilute concentrates with alcohol or a carrier oil such as Jojoba.
Market your products. Compare and contrast the local market options for your business, such as farmer's markets and consignment shops, with Internet marketing options such as a web store and banner advertising. Select a naming and packaging theme that will please your target market. Remember that advertising remains essential to finding customers: if you want to rely on word of mouth, give people an incentive to tell their friends. Buy oils or chemical ingredients in bulk once you have a source of revenue.