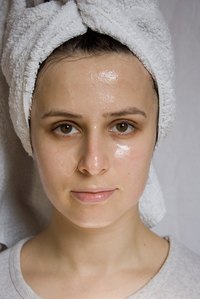 Hyperpigmentation is a common condition in which areas of the skin become darkened. Several factors can cause our skin to become hyperpigmented. Hyperpigmentation can occur anywhere on the body, and can result from a variety of health, environment and lifestyle factors, including excessive sun exposure, injury/burns, post-acne scars, side-effect of medication, aging, and the use of birth control pills. Numerous treatments are available to fade hyperpigmented skin, from over the counter and prescription products to medical treatments.
Things You'll Need
Sunscreen
Body scrubs
Face peels
OTC chemical peels
Prescription skin lightening creams
Laser treatment
Cryotherapy
Instructions
Use a sunscreen of SPF 30 or higher whenever you step out in the sun, as sunlight worsens hyperpigmented skin. According to the Skinacea website, sunscreen enables quick fading of the hyperpigmented skin and prevents existing dark spots from further darkening.
Exfoliate hyperpigmented skin at least once a week. Use a body wash containing an exfoliant or use a washcloth to scrub the body while bathing.
Check with your doctor for first line therapy prescriptions that lighten the skin. Creams like Differin, Retin-A, Tazorac and Finacea combine hydroquinone, tretinoin and topical corticosteroids, to lighten the skin.
The Facial Plastic Surgery website recommends using over-the-counter chemical peels that contain AHAs (alpha hydroxy acids) and BHAs (beta hydroxy acids) which are exfoliating agents that help to fade hyperpigmented skin. AHAs and BHAs are comprised of skin lighteners like kojic acid, licorice extract, arbutin, fruit extract and vitamin C.
Undergo non-ablative laser treatments that make use of intense pulsed light (IPL) systems and pulsed dye lasers to treat hyperpigmented lesions, without causing injury to the surrounding skin. High intensity light heats up the hyperpigmented area to eliminate the dark spots.
If the hyperpigmentation is a small lesion like an age spot and localized to a specific area, try cryotherapy. Cryotherapy is an effective and inexpensive treatment that addresses the pigmented area by freezing and fading it.