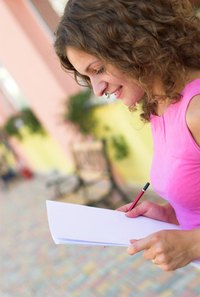 Writing an annual report may seem like a daunting task, but it is a great opportunity to enhance a business's image, attract interest and give a business a competitive edge. According to "Forbes," a great annual report communicates the information a business's management wants it to express and provides meaningful information. Great annual reports provide a story about a company's past year, help those reading the review see the big picture and focus on goals accomplished.
Use a theme. The Enterprise Foundation states a theme for an annual report can help you organize the contents within it. Your theme can be your company's slogan or you can create a new theme just for the annual report.
Highlight the company's accomplishments. A good annual report not only tells about the company's accomplishments, but also states why these accomplishments were important. For example, include information about how many people the company helped, the number of volunteer hours, the level of community support and so on to quantify the accomplishments.
Include stories about people, such as case studies or personal profiles. Stories about real situations or people with whom a company worked can make more of an impact on a reader than simple summaries. If possible, ask a client to provide a personal story or a testimony about his or her experiences with the company.
Talk about the financial aspect of the organization. You can choose to include a full financial statement or briefly summarize the financial aspects of the organization and tell readers where they can find copies of the full financial statement. Network for Good states you should use graphs, pie charts and simple language to explain how the organization obtained its funding and how the money will be used.
Include lists of those on the board of directors, executive staff and donor list. Additionally, let potential supporters know how they can help the company accomplish more in the future. Make sure you are clear about whom new supporters should contact and the type of support the organization needs.
Double-check the details for accuracy. Spelling errors, incorrect numbers and the like can damage a company's credibility and image. After you edit the annual report, have two more people proofread it and help you verify that the facts are correct.